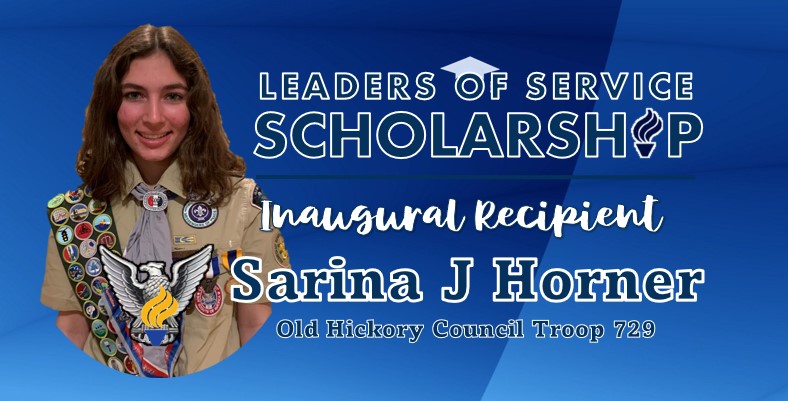 APO Eagles, the Eagle Scout Alumni Association of Alpha Phi Omega, National Service Fraternity (APO), and National Affiliate of the National Eagle Scout Association (NESA) are proud to announce the inaugural recipient of our College Scholarship. Sarina Jarrahi Horner is a graduate of Forsyth Country Day School (FCDS) in Lewisville, North Carolina, and the North Carolina School of Science and Mathematics online in Durham. She will attend the University of North Carolina at Chapel Hill in the fall as a Morehead-Cain Scholar.
Sarina will receive $2,000 in recognition for her active participation in school, Scouting activities, and community service. she has demonstrated a commitment to Leadership, Friendship, & Service.
At FCDS, Sarina served as the Vice President of service, President of the Forsyth Backpack Program Club, and President of the Girls' Service Club. She also served on the judicial board and as an Ambassador for FCDS. Sarina was the Captain of the varsity girls' Golf Team and a Captain of the varsity track & field team.
Sarina co-founded the Youth Engagement Coalition with Wake Forest University and HandsOn NWNC to increase youth engagement and volunteerism and serves on the board of HandsOn. She co-founded the Forsyth County Young Leaders Program which provides mentorship and education to historically underrepresented high school leaders, enabling them to increase the impact of their community initiatives.
Over the past 6 years, Sarina has raised enough to provide over 15,600 meals to food-insecure school-aged children and was recently named one of the "20 under 20 most Influential Iranians in North Carolina". Sarina successfully lobbied to lift the two grocery bag limit on public transportation in Forsyth County and is currently working with state representatives and senators to repeal the North Carolina tax on feminine hygiene products.
Sarina is a member of the first class of female Eagle Scouts and the first female Eagle Scout to receive the National Certificate of Merit. Sarina is an outdoor enthusiast, enjoying skateboarding, surfing, snow skiing, camping, and running whenever she can. At UNC, she plans to study economics. Sarina is the daughter of Shaida and Vance Horner II of Lewisville, North Carolina.
Read more about Sarina and her Eagle Project here.
About Alpha Phi Omega
Alpha Phi Omega is the single most represented co-educational intercollegiate service organization in the United States.  Since 1925, APO has initiated more than 500,000 members and has had over 750 chapters. Today, young men and women provide thousands of hours of community service on over 375 campuses. APO continues to provide more service on more campuses than any other collegiate service organization. Alpha Phi Omega teaches through the principles of Leadership, Friendship, and Service that we are architects of our own ambitions and that each of us has the opportunity to develop ourselves to be whatever we seek to be.
About NESA
The National Eagle Scout Association (NESA) allows Eagle Scout alumni to continue to stay in touch with BSA programs, hear positive stories about the BSA's impact on the community, and learn the latest methods provided by Scouting to transform the lives of young men & women through the tenets of leadership, character development, citizenship, and physical fitness. NESA is also an outlet for alumni to network and collaborates with one another under the common banner of Scouting, which may include increasing business connections and participating in service to the BSA or other organizations.